Welcome to the CCH Learning Center.
Subscriber Discount
CCH® IntelliConnect™ and Accounting Research Manager® subscribers may be eligible for a special discount. Please contact your CCH representative at 1-800-449-8114 for information about the discount, or to purchase a subscription.
Course/Library Matrix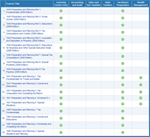 Use the Course/Library Matrix to get a quick view of all the courses in the Learning Center, and the Specialty Libraries that host them.
Click here for a printable list of all the courses available in the CCH Learning Center Core Library.

Subscribe to our course listing
Helpful Links
Customer Service
To purchase a subscription
,
contact your CCH Account
Representative:
800-449-8114
Product Information or Technical
Support:
800-344-3734
Billing and Account Issues:
800-449-6439
For more information regarding administrative policies such as complaint resolution and refunds
, please contact customer support at:
support.cch.com/csinquiry
800-344-3734